Indefinite Sabbatical
For reasons unknown to me, over the last few weeks I've had to deal with not only an increasingly severe case of artist's block, but even moreso a case of just not really being inspired to draw at all. I'm not sure if it's a busy work schedule or just falling out of love with webcomics in general, but for the first time in my life I'm finding that I'm just not enjoying creating art of any variety, and I've never experienced this before. As a lifelong artist, this sort of creative apathy is new to me, and I'm not quite sure how to deal with it. This being the case, I am putting the strip on hold once again (as I did early this year) and taking an indefinite sabbatical until the urge to create rises up once again. I apologize to anyone who may find themselves disappointed by this sort of action yet again; it's not the first time and I know I've let more than a few of you down in the past, but working on the strip of late has become a chore for me rather than something I enjoy, and I feel that it's starting to bleed through into the strip updates. I think it's for the best that I take this break until I find the joy in creating once again, and hope that it's sooner rather than later. Comments? feel free to post a message to the forum.


Archive Makes History Accessible

---
PCC Desktops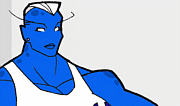 July's desktop features Andrah and is the first of the OBSESS: PCC ANIMATED series of desktops. Visually overhauled and streamlined for in a more mainstream animation style, this new series takes a look at what your favorite characters might look like if PCC were ever to hit the airwaves as an animated series. "Andrah 2.0" is available in 1600x1200, 1024x768, and 800x600 resolutions. $5 per image will have this desktop delivered to your inbox (under normal circumstances) within 48 hours. Thanks!
You can also get desktops from previous months at $5 each. Just stop by our PCC Desktop Archives and look around.