The Polymer City Chronicles
[Main] [Archive] [FAQ] [Profiles] [Downloads/Fanart] [Metrolinks] [Gallery] [Strip Search] [Forums]
Copyright 1994-2007 C.Morrison
Former Polymer City University theoretical physics professor turned freelance paranatural/supernatural researcher. Founded OBSESS (The Otto Bonn Society of Extraterrestrial and Supernatural Studies) with his last Federal research grant. A bit more adventurous than the average cerebral type, but too often employs the what-does-this-button-do method of experimentation, ostracizing him from his peers and the scientific community in general. Spends most of his time modifying/repairing HARV (see separate entry).
* * *
Alien female of undetermined origin and wife of Otto. Found in pyrogenic stasis on board a crashed alien spacecraft, the wreckage of which has been incorporated into HARV. Apparent head trauma on impact appears to have erased all personal and long-term information from her memory, although mechanical, scientific, and linguistic abilities remain intact. Extremely strong (about twenty-five times human average) and resistant to damage; somewhat sensitive to sudden loud noises. Amphibious, vacuum resistant and adaptable to most hostile climates, but vulnerable to extreme heat for extended periods of time; also has innate ability to translate any written or spoken language.
* * *
Female Urusai from like-named planet. First year apprentice of crystalmancy at the Academy of Crystal Sciences ('The Academy') in the capital city-state of Urus. Current keeper and guardian (Shardbearer) of the Shard of Ahrpigi, an ancient crystalline relic with a virtually unknown history. Displays features of various Earth wildlife, including but not limited to feline, lupine, and caprine genus and exhibits traits of like (heightened senses, excellent sense of balance, sensitivity to unnatural phenomena). Host to the spirits of two ancient Urusai precursors (see entries Ahrpigi and Artias).
* * *
Former student of archaeology at PCU, dropped out to puruse career as video game icon in game series 'Grave Robber'. Left public eye after injury on set of 'Grave Robber' film. Lives off of residuals earned from game sales; occupies time as freelance archeaological and cultural advisor to OBSESS as well as various other private individuals.
* * *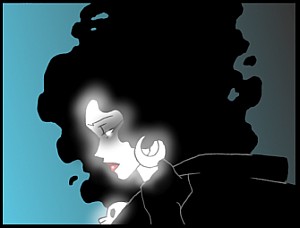 Mistress Laura, Flint, and Locke
Powerful supernatural entity appearing as a shadow-clad woman accompanied by two spectral dragons. Former exotic dancer met with premature fate in chance encounter with OBSESS; driven by vengeance on the living world in general. Thrives off emotional trauma, anguish and angst generated by the living, and thus is loathe to outright kill her victims, preferring to manipulate events in order to guide them down the path of greatest misery. Post-mortem trauma has divided entity's psychological makeup into three separate and distinct sentient components: Flint (id), Laura (ego) and Locke (superego); as such each component exhibits traits of their respective roles. Resides in the Crimson Tower, a citadel comprised of negative emotions given physical form gathered from both the living world and the tormented souls whom she exhibits dominion over. (Flint, and Locke not shown in image)
* * *
An Atrosi spy who has been working with Master Eldion to uncover a threat to the Urusai living on Earth. She is only about 6 inches tall.
* * *
A crew member aboard Lynn's ship.
* * *
Geenh xenobiologist from binary-planet Geenh-Vuldaar; gender indeterminate but exhibiting male traits. Bears strong resemblance to historical accounts of alien 'greys', making his name that much more ironic. Has full working knowledge of universal life-science concepts and excels at medical research and administration. Very capable at 'meatball' pharmacology, seemingly creating remedies from unlikely components. First impressions would indicate a science-minded individual with little in the way of social skills or tact, but contrary to stereotype he has displayed on numerous occasions a wealth of concern for those under his care, as well as an aesthetic appreciation for the universe around him.
* * *
Second of two Urusai precursor entities hosted within Sheeri's mind (via transferral from a second soulshard); considered the greatest gladiatorial combatant of her day. Attempted a hostile possession of Sheeri's body (under the assumption it would be welcomed), later expressed regret at her actions. Extremely well-versed in armed and unarmed combat as well as a small variety of crystalmantric 'spells' directly related to the combat arts. Unnaturally large for an Urusai female. Very outgoing and friendly, though constantly at odds with her brother Ahrpigi (see separate entry) with whom she has had a constant sibling rivalry for reasons unknown.
* * *
Spirit of ancient Urusai precursor and considered one of the most important of early Urusai crystalmancers by Urusai historians. Spiritual essence transferred from small crystal ('soulshard') into Sheeri's subconscious mind. Tends to be curt, opinionated, belittling and impatient, but holds genuine concern for Sheeri, his people, and his world. Extremely well-versed in crystalmancy (using innate powers of various crystals to create numerous effects that modern science would equate to 'magic'). Seems to only be able to communicate with Sheeri when she is rendered unconscious through unnatural means or near death; this combined with his penchant for speaking vaguely makes his role as advisor to the Shardbearer limited. Brother to Artias (see separate entry), of whom he has a degree of intolerance for. (part played by "Master Eldion")
* * *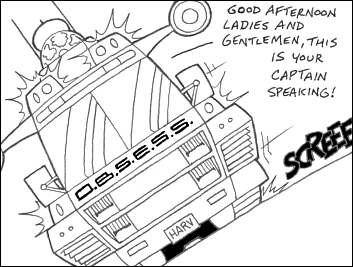 HARV (Heavily Armored Research Vehicle)
OBSESS mobile base of operations. Comprised primarily of an RV hull, dated military hardware and scavenged remnants of alien spacecraft (see separate entry: Andrah). Amphibious; previously capable of flight until planetary re-entry rendered unit grounded. Heavily armored, moderately armed, wide variety of sensory and data processing equipment. In constant state of repair and modification.
* * *